AQ Khan: Father of Pakistan's nuclear bomb jumps into politics
AQ Khan, lauded by many Pakistanis for giving the country the bomb, has launched a political movement targeting the youth vote. He has been accused of selling nuclear secrets to North Korea and Iran.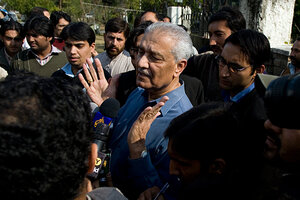 B.K.Bangash/AP/File
The father of Pakistan's nuclear bomb has launched a political party, which plans to participate in the next presidential election slated for early 2013.
Abdul Qadeer Khan has started a 100-day campaign to tour Pakistan, starting with Kahuta, home to the first nuclear facility in Pakistan, established just outside Islamabad, during the 1970s.
"The current leadership in Pakistan is corrupt and it needs to change. I will go around the country to appeal to students, professionals, and the civil society to vote for the right people, since the upcoming elections are around the corner. They look up to me so they will listen to me," Dr. AQ Khan said in a telephone interview.
Though Khan's sentiments echo a popular sentiment in Pakistan, observers say that the launch of his party, the Tehreek-e-Tahaffuz Pakistan or Save Pakistan Movement, highlights a desire for change within Pakistan.
"Like in the United States, Obama was the face of change; we have these new players, too," says Ayesha Siddiqa, a columnist for the Dawn newspaper. "Currently, there is a dire need in Pakistan to go through rejuvenation, and people like Dr. AQ Khan, or Imran Khan [the cricketer-turned-politician], fit the bill," she adds.
In Pakistan, Khan is considered a national hero for helping transform the country into a nuclear power.
---