New UN plan to get girls in school boosted by Malala's father
The father of Malala Yousufzai, the girl shot in Pakistan for speaking on behalf of girls' education, attended the unveiling of a new plan to get girls around the world into schools.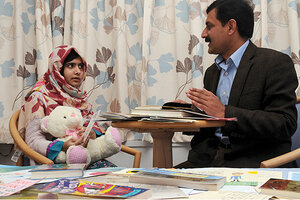 Queen Elizabeth Hospital/AP
The Pakistani government and the United Nations' education agency unveiled a plan today to motivate girls around the world to enroll in schools by the end of 2015.
Organizers dubbed it the "Malala Plan," after Malala Yousufzai, the 15-year-old education activist who survived being shot by a Taliban gunman in October. Malala's father, Ziauddin, attended the ceremony along with Pakistan's president, Asif Ali Zardari, who announced a $10 million in seed funding for the plan.
The new plan highlights just how bleak girls' education in Pakistan has become: More than 1,500 schools have been bombed by the Taliban since 2008 in Khyber Pakhtunkhwa – the province where Malala comes from. According to recent data, less than 80 percent of children aged 6 to 16 in Pakistan are enrolled in school; of those who do attend, only 36 percent are girls.
Malala's shooting has added to the pervasive sense of fear among parents and their daughters over attending school in Pakistan. Conservative Islamic values also contribute to many parents sending their sons to religious seminaries and keeping their daughters out of school. While funds for building schools and paying teachers can help, analysts say what's needed most to get girls to school is improved security and parents valuing education.
---