In Afghanistan, a girl's killing stands out – for police response
Police have arrested suspects in the recent beheading of a girl, but a new report released today by the UN finds that violent acts against women remain under reported and often ignored.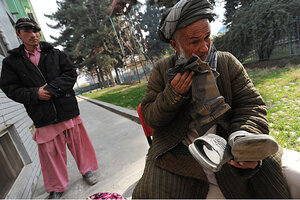 Scott Peterson/The Christian Science Monitor/Getty Images
The poor Afghan family never took a photograph of their 14-year-old daughter, Geysina, before her life was cut short.
All the mementos of their devoted daughter fit in a single sack, carried from their village in northern Afghanistan – the totems of the latest grisly episode in a surge of killings of young women and girls in Kunduz Province. There's a pair of worn sandals repaired with loops of thick thread, which bring tears to the eyes of Geysina's father when he holds them. And there is a ring made of cheap metal – no more than costume jewelry for children – inset with a small oval of lime-green plastic.
Geysina was wearing the ring the morning in late November when she was beheaded 150 yards from home while fetching water.
"She was too young for gold," explains Geysina's father Mohamad Rahim, whose threadbare sleeves and calloused hands attest to a life spent farming. He tips his head and grey silk turban at the memories of Geysina, one of nine children whose walk, smile, and laugh set her apart. "We were all lying on the ground, crying and screaming – there is nothing like this [killing of innocents] in Islam."
Her family and local police blame a neighbor, a butcher living next door, who they say threatened Geysina's life repeatedly for not accepting several proposals for marriage to the butcher's brother – the latest rejection made just the night before the killing.
Geysina lived and died in a hard country for women, a point highlighted again by a United Nations report released today. Despite a landmark 2009 law called the "Elimination of Violence Against Women," crimes against women remain under reported and largely not investigated.
---