Five women shot dead in Pakistan for fighting polio
Five female health workers vaccinating children against polio have been shot dead in Pakistan as Islamic militants raise suspicions about immunization efforts.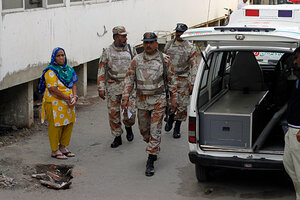 Athar Hussain/Reuters
Five female health workers involved in Pakistan's polio eradication efforts were gunned down Tuesday in two of the country's main cities amid militant resistance to immunization campaigns.
Unidentified gunmen killed four of the women in Karachi and a fifth in Peshawar. Two male volunteers were also injured in Tuesday's attacks, according to Sindh's health department. As a result, an ongoing polio vaccination campaign has been suspended throughout Sindh Province, according to the department.
Tuesday's violence highlights a new trend of deadly attacks targeting women, who had previously been avoided unless they were members of religious minorities, says Jameel Yusuf, the former head of Karachi's Citizens-Police Liaison Committee.
"This calls for serious measures. It is now time for clerics to come out openly. They seem more scared of terrorists than anyone else," he says by phone. "It is a national issue, in which the health of the people, the children – our future generation – is at stake."
Attacks on volunteers and health personnel working on polio vaccinations have increased sharply in 2012. While the motives for the attacks remain unclear, popular suspicion about polio vaccination drives surged after it was revealed that the CIA set up a face vaccination drive in Abbottabad as part of its hunt for Osama bin Laden.
---