Protesters march for women's safety in India on New Year's Eve
Protesters in India's major cities demanded safety for women in the wake of the death Friday of a 23-year-old woman who was gang raped in Delhi.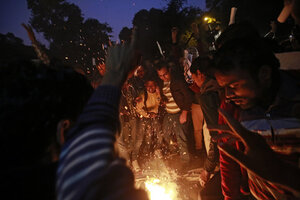 Danish Siddiqui/Reuters
Groups of protesters in India's top cities of Delhi, Mumbai, and Kolkata rang in the new year with candle light marches and protest songs to demand safety for women in the wake of the death Friday of a 23-year-old woman who was raped and brutally assaulted in a bus in the capital.
The protests were called "Take Back the Night," emphasizing that women had the right to be out in the city in the night. Men are generally more visible outside the home in India, particularly at night time. The rallies come in the wake of comments by several politicians that the increase in rape was caused by women wearing make-up or mini-skirts.
The female victim remains unidentified in media reports, but her story has transfixed India for the past fortnight. Calls have intensified for reforms of the police and judicial system which rarely punishes rapists. Analysts point out, however, that legal reform can only go so far without changing underlying cultural attitudes that keep women from full public participation.
The protest in the cities tonight aimed at starting to change the culture, and in the case of Delhi, pushed back on speech controls by a government that has been slow to empathize with the popular outrage. Rally organizers here did not take police permission, which is not easily forthcoming for areas not demarcated for protests. Police presence was light, in contrast to police crack-down on protesters a week ago.
"This is a turning point in which a new generation is redefining the contract between the state and the citizen as also between the genders," says political commentator Shuddhabrata Sengupta. "It is great that while many of the protesters are angry, ... they refused to be blackmailed into calling for capital punishment."
---