Border raids give India-Pakistan peace process a reality check
Border skirmishes between India and Pakistan have grown unexpectedly hot in the past few days, prompting US comment.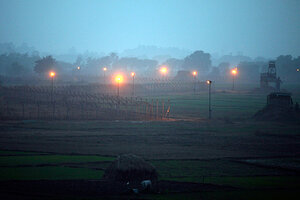 Mukesh Gupta/Reuters
Two days after the Pakistani Army claimed that a cross-border Indian raid killed a Pakistani soldier and wounded another, the Indian Army claimed that Pakistani soldiers crossed its side of the line in Jammu and Kashmir state today and killed two Indian soldiers.
While cross-border shelling along the 435-mile Line of Control that divides the disputed Jammu and Kashmir region between the two countries is not rare, the killing of soldiers has come as a surprise: Pakistan and India are in the middle of a major peace process, and most cease-fire violations happen during the summer rather than the difficult winter in the mountainous region.
The skirmish has prompted many to ask "why now?"
Analysts in India see these events in the light of recent reports that the Pakistani military has adopted a new doctrine that states, significantly, that the Taliban and not India is Pakistan's primary threat.
"These cease-fire violations could be the localized decision of a divisional brigadier or commander unhappy with the India-Pakistan thaw," says military commentator Ajai Shukla, a former Indian Army officer who has served at the Line of Control. "It is significant that the Pakistani Army has transferred 70,000 soldiers from the Indian border to counterterrorism efforts on the Afghan border in the last two years," he points out, adding: "It is very likely that there are officers who do not think this is in Pakistan's best interest."
Referring to rogue military or militants, Raza Rumi of the Pakistani think tank The Jinnah Institute, says, "While the Pakistani government and military have both tried their utmost to continue the peace process, there may be nonstate actors who could be riled up by the prospect of imminent unemployment."
---