Karzai meets Obama: How will they shape a post-2014 Afghanistan?
Few appear to believe the Taliban can regain power after 2014, when the US withdraws most of its troops. What's key, some say, is developing a US-Afghan partnership that will survive.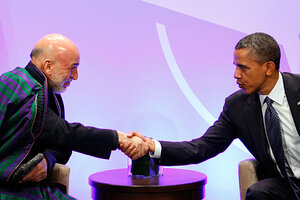 Larry Downing/Reuters/File
Afghan President Hamid Karzai's visit to Washington this week will shape the future of Afghanistan, as he and Obama determine the number and role – if any – of US forces in Afghanistan post-2014.
After more than a decade of war and costly efforts to build infrastructure and train Afghan security forces that now number 350,000, the view from Kabul is still mixed. Many are concerned about what will happen when the bulk of the 66,000 remaining US troops will be withdrawn by the end of 2014. Others believe that Afghanistan is ready to stand on its own.
Yet worries about a collapse or a reignited civil war after the US pullout may be overblown, just as similar doomsday predictions about Iraq after the final US withdrawal in December 2011 have not come to pass.
"There is now a sense [among foreigners] that the lights are going to go out in 2014, that the sun is going to stop shining," says Martine van Bijlert, co-director of the Afghanistan Analysts Network in Kabul. "In the early years, they had this overly rosy picture, but since then there has been this decline and increasing pessimism. Both are over-estimations of the international role."
Some fear a return to the dark days of the late 1990s, when the Taliban ruled most of Afghanistan with a centuries-old, unbending Salafi Islamist worldview. Others fear a breakdown of central government and return of warlordism, competing militias, and civil war.
---