Protests spread in Pakistan over Shiite killings
Minority leaders and even mainstream politicians are growing more bold in calling on the country's military to crack down on anti-Shiite militants.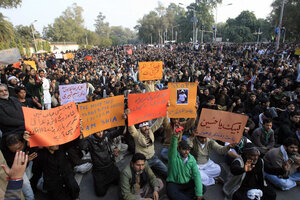 Mani Rana/Reuters
With at least 86 coffins lying next to them on the road, people from the Hazara community in Pakistan are refusing to bury their dead in Quetta or to negotiate with the Prime Minister who rushed to the city following a deadly twin bombing there that killed more than 100 people on Thursday.
The Hazara sit-in stretched into its third day today on a main road in the capital of the restive province of Balochistan. The protesters are demanding that the government take action against a Sunni militant group called Lashkar-e-Jhangvi, which has claimed responsibility for the bombing. Most Hazaras are Shiite.
Targeted killings of Shiites have been going on for years in Pakistan and picking up pace. But the breadth of the public outcry is unprecedented, as people across Sunni-majority Pakistan have come out in support of the Shiite minority community. Demonstrators entered onto roads in Karachi, Lahore, and Islamabad to express solidarity. On social media, hashtags like #ShiaGenocide have been trending here for the past few days.
The protests are also receiving support from beyond the elite who tweet and take up civil society causes. Populist politician Imran Khan also traveled to Quetta, addressed the families of the victims, and demanded action to be taken against Lashkar-e-Jhangvi – something that politicians in Pakistan are often scared of doing for fear of reprisal attacks or angering the military establishment that many say backs the group.
---