Pakistan's political crisis: Is democracy endangered?
The Supreme Court ordered the arrest of Prime Minister Ashraf, sparking heated debate about the future of Pakistan's democracy.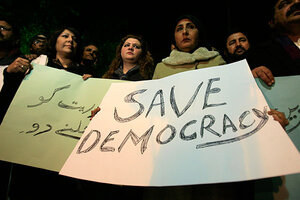 Mani Rana/Reuters
The Supreme Court's decision to order the arrest of the prime minister in the midst of major protests in Islamabad expressing frustration at the government has unleashed heated debate about whether democracy has just been upended in Pakistan.
Pakistan's democratic development has frequently been interrupted by coups. The country has never had an elected government complete a full term in office. The current government is only a few months away from being the first to reach that milestone, but the court order now leaves that in doubt.
The government has portrayed the prospect of a completed term as key to deepening democracy's roots here. Those decrying the court move generally agree, and argue that it looks like an opportunist move – timed right before elections and during a major protest – to turn out the government. Supporters of the court decision, however, say another pillar of democracy is at stake: the Constitution and the rule of law. Even high officials must play by the rules, they counter, and the court acted within its jurisdiction to order the prime minister's arrest on corruption charges.
For some analysts, the great shame is that all institutional stakeholders have sullied their democratic credentials over the years, leaving no side a trustworthy standard-bearer. In the past, the court has been the willing handmaiden of generals looking to seize power. The current elected government, meanwhile, has brushed off legitimate challenges as precursors to a coup.
---