India-controlled Kashmir seethes as curfew extends to seventh day
The curfew follows the secret execution of a Kashmiri man convicted for his role in a 2001 attack on India's parliament. The execution and India's crackdown have sparked talk of renewed unrest in Kashmir.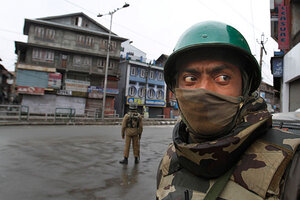 Mukhtar Khan/AP
Srinigar, Indian-administered Kashmir
Kashmir's 6 million residents faced their seventh straight day of confinement and curfew today, the result of an order by New Delhi after the government's secret hanging of Mohammad Afzal Guru, a local Muslim convicted for his role in a deadly attack on India's parliament in 2001.
Mr. Guru's execution, after a controversial trial and death sentence, and his burial inside the high-security Tihar jail in New Delhi on Feb. 9, have left the mostly Muslim residents in the Srinigar Valley region seething in anger. Nearly all local politicians, including chief minister Omar Abdullah, expressed dismay, with Mr. Abdullah saying "there was no case against him [Guru] in the [Jammu and Kashmir] state."
Guru's execution came as the region was experiencing a period of tentative calm after three consecutive summers of mass protests against Indian rule that left 180 people dead. Now, as political activists are detained and the curfew continues, talk is rising again of a renewed atmosphere of confrontation from years back.
The general opinion in the valley is that Guru did not receive a fair trial and that Indian political and judicial institutions "colluded" in his verdict. The hanging was also criticized amid a renewed debate about capital punishment.
"If circumstantial evidence is enough to send a man to the gallows, what about [Narinder] Modi, who supervised a pogrom against Muslims in [the Indian state of] Gujarat?" asked a local resident, peering through a window in Srinagar, the region's summer capital. He declined to give his name.
---