Pakistan's Musharraf slips treason charges, but is held incommunicado
Pakistan's caretaker government has refused to bring treason charges against the detained former military leader, Gen. Pervez Musharraf, saying it was beyond its mandate.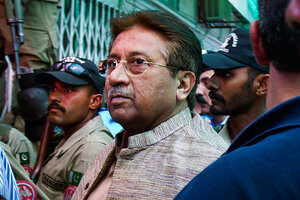 Anjum Naveed/AP
Today, Gen. Pervez Musharraf remains under arrest, confined to two rooms in his farmhouse, and the former military leader of Pakistan is still not allowed visits, say his lawyers.
Yet in what is likely good news for the former Army chief, the interim government of Pakistan today said it will not try Musharraf for treason, saying it does not have the power to do so and that elections, set for May 11, are a national priority.
"We cannot initiate proceedings against him [Musharraf] under Article 6 of the Constitution as we don't have mandate to do so. Our mandate states that our first and foremost duty is to carry free and fair elections and provide security to the candidates," the interim government said in its reply to the court regarding Musharraf's treason case, according to the National Turk.
The last week especially has been a trying one for Musharraf: He came out of self-imposed exile in March to "save Pakistan," as he said, and run for high office. His bid fell flat among the public and then the official election commission barred his candidacy. Last week, Musharraf got an arrest order by a high court in Islamabad that said his attempt in 2007 to replace federal judges amounted to treason. But the former autocrat brushed aside court police and was escorted to his nearby country house by his security detail.
---