After Maoist massacre in India, fear of worse to come
Maoist insurgents killed 29 people in an ambush of a political party's convoy in eastern India. The massacre had the government vowing a stepped up counterinsurgency and analysts worried about more violence.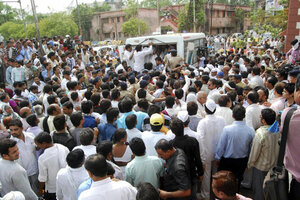 AP
A massacre by Maoist guerrillas in eastern India that killed 29 people Saturday placed a spotlight on the group's insurgency and ignited fears of more violence heading into an election.
Among the victims of the attack were senior leaders of India's Congress party in the eastern state of Chattisgarh and Prime Minister Manmohan Singh indicated the government will step up its offensive against the Maoists. "We have to be more determined in fighting Naxal (Maoist) extremism. These lives should not go in vain. This incident should be treated as an inspiration in our fight against forces of extremism and violence," he said.
The attack occurred in the Darbha Valley in the Bastar plateau of Chattisgarh. The Communist Party of India (Maoist), whose members are also known as Naxalites, controls large parts of territory in the tribal-dominated Bastar region. On Saturday, a group of 250 guerrillas ambushed a convoy of 25 cars carrying leaders and workers of the Congress party. The convoy was part of voter mobilization for the state elections due in October.
The chief target in Saturday's attack was a tribal leader, Mahendra Karma, who in 2005 had founded a state-supported anti-Maoist militia known as the "Salwa Judum" meaning "Peace March" which has been criticized for human rights violations and hiring child soldiers. The Supreme Court of India disbanded the Salwa Judum in 2011, calling it unconstitutional.
"Since the disbanding of the Salwa Judum, Karma had become a symbolic target whom they had tried to kill before as well," says documentary filmmaker Sanjay Kak, whose recently released film, Red Ant Dream, shows damning footage of Karma organizing the Salwa Judum militia, contrary to his claims that it was a spontaneous Gandhian rebellion against the Maoists.
---