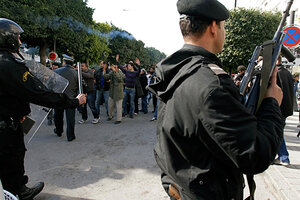 Zohra Bensemra/Reuters
0815 ET
Tunisian protesters were out on the streets of the capital again today, rejecting an interim government that is packed full of the same people who worked for ousted Tunisian President Zine El Abidine Ali (from interim President Fouad Mebazaa and interim Prime Minister Mohammed Ghannouchi to the key security posts). Twitter remains the best way to follow breaking news, though the feeds are chaotic and full of rumor and unconfirmed reports. The best hash tag still seems #sidibouzid (the name of the town where the protests began in December after a young man's suicide).
The BBC indicates that the interim government (the Monitor's Kristen Chick in Tunis explained yesterday why protesters aren't happy about the new government) is already on shaky ground, reporting that three ministers from an opposition labor movement have quit.
"The three are from the General Union of Tunisian Workers (UGTT), which played a key role in protests which ousted the former president... the junior transport minister, Anouar Ben Gueddour, has said he and two other ministers, Abdeljelil Bedoui and Houssine Dimassi, are leaving. All three are members of the UGTT."
---