Egypt protests: An endgame seems to be approaching, but whose?
(Read article summary)
Egypt demonstrators calling for the immediate ouster of Hosni Mubarak held their ground in Tahrir Square today ahead of calls for more mass protests tomorrow.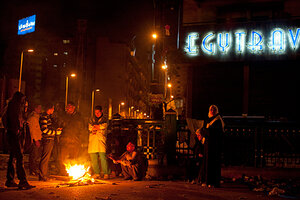 Ann Hermes/Staff
Egypt protesters held their ground in Cairo's Tahrir Square today against pro-regime thugs as foreign journalists and activists were attacked, beaten, and arrested in what appears to be the prelude to a harsh crackdown.
Hossam Hamalawy, an Egyptian journalist and democracy activist in Tahrir, says the mood in the square is buoyant and generally safe, with protesters organizing to protect themselves from pro-regime militias that most Egyptian activists and outside observers believe are being organized by members of the current political order.
But around the square it was a different story.
Journalists and activists trying to get in were beaten by thugs on multiple occasions. The military went from room to room in the Ramses Hilton (which overlooks the square), looking for foreign journalists and seizing camera equipment. The offices of the Nadeem Center for Human Rights and the Hisham Mubarak Law Center – two of the country's most prominent human rights organizations – were raided by the police. Amnesty International and Human Rights Watch had researchers detained.
---
Follow Stories Like This
Get the Monitor stories you care about delivered to your inbox.