Mass Libya evacuations as Qaddafi digs in
(Read article summary)
The United States has sent a ferry and planes to Libya's capital, and Turkey has already rescued 5,000 nationals – making it the biggest evacuation in Turkish history.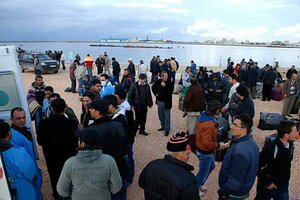 Alaguri/AP
Libya's mass expatriate exodus has begun, amid escalating violence as embattled leader Muammar Qaddafi employs mercenaries to prolong his spectacular, 41-year-show of autocracy and eccentricity.
Turkey has already evacuated more than 5,000 nationals using only the airport in Tripoli, with further evacuations planned for the 25,000 Turks living in Libya – making it the biggest evacuation in Turkey's history, Foreign Minister Ahmet Davutoglu said today, reported Bloomberg.
The United States, Russia, and China have all begun dispatching vessels to retrieve their citizens. Evacuating British citizens has become the top priority for its Foreign Office, said Prime Minister David Cameron, and the famed naval power has sent one of Her Majesty's ships to the coast. The BBC provides a breakdown of evacuation plans for 15 nations.
But Italy may face the most herculean task. Italian Foreign Minister Franco Frattini expects more than 300,000 Libyans to flee in the weeks to come, just as thousands of Tunisians fled to islands off Italy in the security vacuum that followed their revolution in January.
---