Watch out Chávez, Fidel Castro now has 100,000 Twitter followers
(Read article summary)
Tweet-happy Hugo Chávez now has competition. But not even Twitter has been able to persuade Cuba's Fidel Castro of the importance of brevity.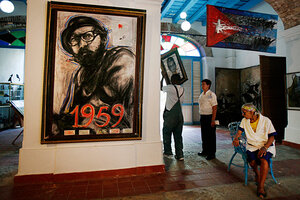 Javier Galeano/AP
Latin America's revolutionary left is attempting to make "the people's struggle" truly popular once again by opening a new flank in cyberspace. And the strategy appears to be paying off, at least in numbers.
Slightly more than a year after opening a Twitter account to post his "Reflections" on world affairs and diatribes against US global meddling, Cuba's aging revolutionary patriarch Fidel Castro has reached 100,000 followers. In fact, he blew right past the mark, registering more than 800 new followers today alone (672 more followers than I have attracted to my sad little Twitter account – The Nica Tim – in more than five lonely months).
But not even Twitter, which limits posts to 140 characters, has been able to persuade Mr. Castro of the importance of brevity. Thanks to URL-shortening service bit.ly, Castro – a man once known for giving tireless six-hour speeches under the hot Cuban sun – can use Twitter to link to his Reflections posted on other sites, which are as garrulous and adjective-laden as one might expect from the bearded octogenarian.
As he himself only follows 19 people on Twitter, Castro appears to have short patience for others' rants.
Still, a captive audience of 100,000 people is quite a feat, especially considering none of those people were bused in to the plaza and forced to be attentive.
And, given Cuba's low Internet connectivity rate, one can also assume that most of those who are following Castro are off-island supporters rather than Cuban state workers required to support their leader.
---