Why more weapons wouldn't help Libya's rebels – at least not right away
(Read article summary)
The lesson of the past week is that Libya's rebels don't need arms as much as training in how to use them. They also need a communications network and a command structure.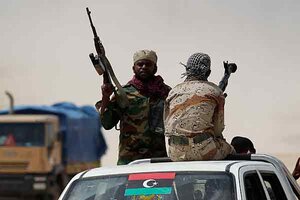 Finbarr O'Reilly/Reuters
The Libyan war is still young, and the international community is still groping for some kind of consensus on what its appropriate role should be here – not least of all, whether it should arm the rag-tag militias fighting Col. Muammar Qaddafi's forces.
NATO Secretary-General Anders Fogh Rasmussen dismissed the idea in a CNN interview yesterday, saying "we are not in Libya to arm people, but to protect people."
He noted that UN Security Council Resolution 1973, which allows "all necessary measures" to be used in protecting Libyan civilians, authorizes the enforcement of an arms embargo. But the US has interpreted the resolution as also allowing the arming of rebels, if that step is deemed necessary.
French Foreign Minister Alain Juppé told reporters on Tuesday that his country is "ready to discuss" arming the rebels "with our partners."
---