How wrong is Time's most influential people list?
(Read article summary)
Really wrong. Time has a strange definition of 'influence.'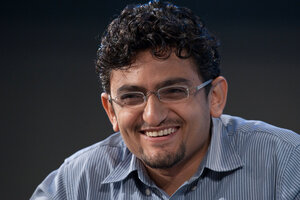 Nicholas Kamm/AFP Photo/Getty Images/Newscom
Time's List of the 100 "most influential people in the world" came out last week. I only noticed it today because I came across a news item about Egyptian Internet activist Wael Ghonim taking a sabbatical from his job at Google to, according to his Twitter account, "start a technology focused NGO to help fight poverty & foster education in Egypt."
Mr. Ghonim was the little known Google marketing executive who, with friends, started the "We are all Khaled Said" Facebook page to commemorate the murder of a middle-class Egyptian man by the police. That site evolved into the online rallying point for the Egyptian revolution. He was arrested in the early days of the Egyptian uprising and upon his release gave an emotional television interview that briefly made him the revolution's media star.
Since, he's returned to his job at Google and been active on the Internet. With the future of Egypt now in the hands of the political activists, military officers, and politicians jockeying for power and influence, he's largely receded into the background -- something confirmed by his decision to start what appears to be an apolitical, mom and apple pie kind of charitable organization, rather than engage with the rough and tumble of Egyptian politics.
---