As Petraeus exits, US interests in Afghanistan far from secured
(Read article summary)
Gen. David Petraeus is giving up command of the Afghanistan war to take charge of the CIA. Announcement of the shift comes during a bad week for NATO in Afghanistan.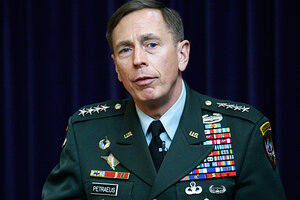 Sang Tan/AP
General David Petraeus is leaving the field of battle.
He's seen in some circles as having turned around the Iraq war, and was brought in to shore up the flagging NATO effort in Afghanistan last July. Now he is leaving to become chief of the CIA at a time when the theory of warfare he's put into practice in Afghanistan is coming under heavy strain from insurgents and an Afghanistan that grows ever more weary of foreign troops. The task his replacement will take up is looking as difficult as ever.
On the very afternoon that his departure for Washington was confirmed, horrifying scenes were unfolding in Kabul. There, eight US soldiers and one American contractor were gunned down by an Afghan Air Force officer in the military portion of the airport. The New York Times quoted an Afghan officer at the scene that other NATO soldiers leaped from second and third story windows to escape the killer.
---