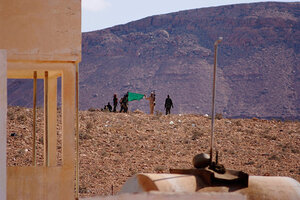 Anis Mili/Reuters
Libyan strongman Muammar Qaddafi has been forced to expand his counteroffensive against rebel holdouts in the country's west in the past few days, with Zintan, a major population center 100 miles southwest of the capital, once more in open revolt.
Most news coverage in recent days has focused on the besieged town of Misurata, and for good reason. Qaddafi cut off the town's electricity and water more than a month ago, and has rained mortar and rocket fire on civilian neighborhoods and rebel positions alike for weeks. The rebels have managed to hang on to the port, which has become the city's lifeline, and yesterday rebels claimed they were making gains in street fighting against Qaddafi's forces even as a massive artillery barrage prevented aid ships from docking.
But Qaddafi, who has mostly been focused on Misurata for weeks, is now being drawn in other directions. While a few weeks ago Misurata was seen as a lone western holdout, its successful defiance of the government (with plenty of help from NATO) has inspired rebel gains elsewhere in the west. In the past week, rebels regained control of a border crossing with Tunisia in the western mountains, and local rebel militias have wrested control of a number of small towns in the area, like Nalut.
---