Obama's speech a 'historic shift' on Israel and Palestine? No.
(Read article summary)
The White House has tried to frame it that way. But there wasn't much there there.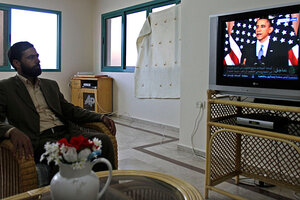 Adel Hana/AP
If you've read the lead story in The New York Times on President Barack Obama's Middle East speech this afternoon, you're probably under the impression that the president has taken a bold new step to end the Israeli-Palestinian conflict.
The first paragraph of the story, filed from Washington, is quite dramatic. Obama, "seeking to harness the seismic political change unfolding in the Arab world... publicly called for the borders prevailing before the 1967 Israeli-Arab war to be the baseline for a settlement of the Israeli-Palestinian conflict, the first time an American president has explicitly taken that position."
The only problem is, it's not much of a shift at all.The key word in that opening paragraph is that word "explicitly." What it means in this context, is that he said something that multiple presidents have said before him, but with slightly weaker language. What did he say? "The borders of Israel and Palestine should be based on the 1967 lines with mutually agreed swaps, so that secure and recognized borders are established for both states."
---