Can US keep aid flowing to Yemen's Saleh after embassy siege?
(Read article summary)
Saleh loyalists trapped the US ambassador for hours yesterday in a well-timed warning that Saleh is essential to Yemen's stability – a stance that has secured him millions in US aid.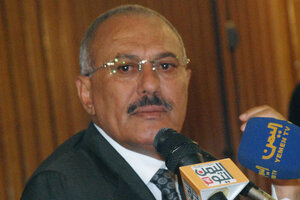 Gamal Noman/AFP Photo/Getty Images/Newscom
An armed mob of government loyalists threatening the lives of a major chunk of the foreign diplomatic corps, including the US ambassador. A daring helicopter rescue. Chaos and tribal gunmen in the rest of the capital.
Just another Sunday in Sanaa, Yemen's capital, where an exquisitely timed show by gunmen loyal to President Ali Abdullah Saleh staved off the signing of a transition plan backed by the US and Gulf states, and increased the chances that Yemen's uprising will deteriorate into all-out war.
President Saleh's 32 years in power have been well-served by his penchant for presenting himself as Yemen's "essential" man, the only one who can hold back the tide of chaos and disorder. He's secured hundreds of millions of dollars from the US with this tactic. It appears he decided yesterday to remind the world of the risks if he's forced to withdraw from power.
Not only did a mob besiege the embassy of the United Arab Emirates, where the US, British, Saudi, Kuwaiti, Omani, and European Union ambassadors had gathered to witness Saleh's signing of the agreement, a pro-Saleh mob briefly attacked the motorcade of Abdullatif bin Rashid al-Zayani, the Gulf Cooperation Council's chief negotiator for the deal. Other embassies were surrounded by furious crowds, even China's.
---