Saudi woman drives, goes to jail
(Read article summary)
Remember Obama's speech stressing women's rights in the Middle East last week? That's all right. Saudi Arabia doesn't remember either.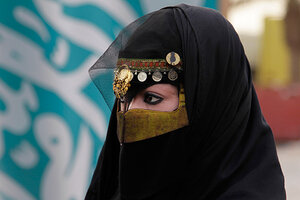 Hassan Ammar/AP
Even as President Barack Obama was delivering his speech on political change in the Arab world, with a call for the "universal" rights of women to be respected, close US ally Saudi Arabia – one of the most patriarchal societies on earth – was getting ready to jail a young woman for having the temerity to get behind the wheel of a car.
Manal al-Sharif, a women's rights activist, uploaded to YouTube a video of herself driving in Saudi Arabia's Eastern Province last week. The video was part of an online campaign encouraging Saudi women to take a page out of the Arab uprisings playbooks, and to defy oppression by driving on June 17 of this year. Over the weekend, Ms. Sharif was arrested and is currently being held on charges she disturbed "public order."
The video she uploaded has since been taken down (though some of the shocking footage is used in this Al Jazeera story), as has the Facebook group she started, though a similar page was recently restored by emulators.
---