Netanyahu's real message to Congress: There will be no peace talks
(Read article summary)
OK, those words didn't come out of his mouth. But that's the practical meaning of Israeli Prime Minister Benjamin Netanyahu's speech to Congress this morning.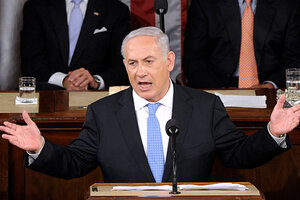 Susan Walsh/AP
The peace process is going nowhere. That's the practical take-away from Israeli Prime Minister Benjamin Netanyahu's speech to a joint session of Congress this morning.
Of course, he didn't frame it that way. But between a series of preconditions he placed on a return to negotiations and a public insistence that an indefinite Israeli occupation of the Jordan Valley is nonnegotiable, that's the message that Palestinian Authority President Mahmoud Abbas would have received. An Abbas aide said the speech amounted to a "declaration of war."
Mr. Netanyahu's speech had been teed up by members of the chattering classes as "make or break," an opportunity for the hawkish Israeli leader to regain some diplomatic initiative. The Palestinian effort to be recognized by the United Nations General Assembly in September as an independent state is gathering steam and political change in the Middle East is upending longstanding security relationships.
---