Can we please stop calling it a peace process?
(Read article summary)
Recognizing that the Israeli-Palestinian peace process exists in name only is a far cry from saying peace is impossible. Rather, it might actually allow rhetoric to focus more on making tough compromises.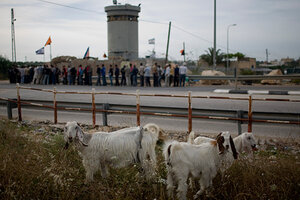 Ariel Schalit/AP
Events of the past few days have put an exclamation point on what should be blindingly obvious: There is no meaningful diplomatic framework for peacemaking between the Israelis and the Palestinians.
Israeli Prime Minister Benjamin Netanyahu's litany of demands for the Palestinian leadership were rapturously received by the US Congress yesterday. But the distant thud you may have heard was the demise of any hopes for renewed bilateral peace efforts in the Holy Land. Palestinians were furious, and appalled by the four-square support for Mr. Netanyahu's agenda from both sides of the aisle in Congress. In Ramallah, plans to seek UN recognition of a Palestinian state are being accelerated.
Netanyahu's speech "contained many errors and distortions and was a long way from the peace process," Palestinian Authority President Mahmoud Abbas said. He vowed to seek UN recognition for a Palestinian state in September if "progress" isn't made between now and then.
"We said in the past and we still say that our choice is negotiation, negotiation and nothing but negotiation. But if nothing happens by September we will go [to the UN]," Mr. Abbas said.
If Abbas is a man of his word, then off to the UN he will go, which will be the formal death of a "process" that's been moribund for years.
---