Is Jacob Zuma Qaddafi's only hope?
(Read article summary)
The South African leader is going to bat for Muammar Qaddafi after a bad couple of weeks for the Libyan strongman.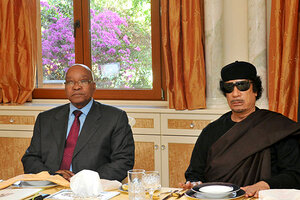 GCIS/AP
Libya's Muammar Qaddafi has a dwindling list of friends. Generals, ambassadors, and ministers have all defected. The head of his central bank jumped ship last week.
Even Silvio Berlusconi, who kissed Qaddafi's hand last year and publicly praised his "deep wisdom," has abandoned him. Today in the de facto rebel capital of Benghazi, Italian Foreign Minister Franco Fratini threw Italy's weight solidly behind the rebellion, promising hundreds of millions to help them win the Libyan war. Adding insult to injury, he said the Italian money was being lent against Qaddafi's frozen assets in Europe.
But at least Qaddafi can depend on Jacob Zuma and the African Union. The South African president was in Tripoli yesterday pushing for an end to the NATO air campaign that has aided the Benghazi-based rebels. "Nothing other than a dialogue among all parties in Libya can bring about a lasting solution," Zuma said in a statement released by his office.
---