Israeli-American 'spy' paranoia in Egypt
(Read article summary)
A spy? Unlikely. But for some, a welcome diversion from the country's problems.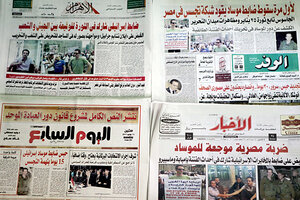 Khaled Desouki/AFP/Getty Images/Newscom
On Monday, Egypt's military government said it arrested an Israeli spy, alleging he'd been dispatched to drive a wedge between the Egyptian people and the military, and claimed that he'd been the instigator of Muslim-Christian violence in Cairo.
The accused is 26-year-old Ilan Grapel, a New Yorker who fought for Israel in the 2006 war with Lebanon and appears to have come to Cairo shortly after the popular protests against Hosni Mubarak erupted on Jan. 25. Mr. Grapel openly kept a Facebook page where he posted pictures of himself posing in front of the pyramids and checking out the protests at Tahrir Square. Not very spy-like.
In fact, the chances that Grapel is guilty of any of the things that Egypt's military rulers have accused him of are very, very slim. Instead, what appears to be going on here is the rerun of one of the oldest ploys in the Middle Eastern autocrat's book: Discrediting and distracting with accusations of collaboration with Israel.
As the protests against Mubarak gathered steam in January and early February, the panicked regime used state television and other propaganda outlets to make wild claims that the protests were being stirred up by Israeli agents and disloyal Egyptians in their employ.
---