Obama's Syria dilemma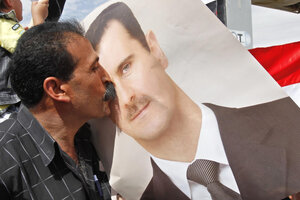 Ali Jarekji/Reuters
P.J. Crowley, President Obama's former State Department spokesman who has become a critical outside voice since resigning earlier this year, called out his old boss over Syria on his Twitter feed this morning.
"It's odd that Obama thinks RepWeiner should resign, but not Assad. Sending lewd tweets violates public service, but not killing people?"
Leaving US politics aside, the Obama administration's stance toward Syrian President Bashar al-Assad must be getting increasingly uncomfortable. Evidence is mounting of atrocities being carried out across that country. Obama publicly said longtime US ally Hosni Mubarak had to leave power on Feb. 1, eight days after the Egyptian uprising began. It took the president 18 days from the start of the Libyan uprising to say the same about long-time US antagonist Muammar Qaddafi.
---