Tunisia's Ben Ali: 'Me? Flee? Never!'
(Read article summary)
Deposed Tunisian dictator Zine El Abidine Ben Ali, who was put on trial for corruption today in absentia, says he was tricked into leaving his country.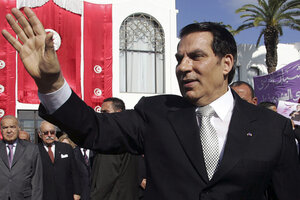 Zoubeir Souissi/Reuters/File
Zine El Abidine Ben Ali, the ousted Tunisian dictator being tried in absentia today for corruption, would like to clear up a little a misconception. He didn't flee Tunis on Jan. 14 as mobs fed up with the corruption of his family and furious at the murder of demonstrators were closing in. He was just running a little errand.
"I was duped into leaving," Mr. Ben Ali said in a statement released from Saudi Arabia, where he is in exile. He insists that he was simply escorting his wife Leila Trabelsi and the rest of his family to Saudi Arabia for their own safety and intended to head straight back home. What happened? His plane left Saudi Arabia without him, "disobeying my instructions," Ben Ali complained in a statement today.
Given proceedings in Tunis today, that was probably for Ben Ali's own good. In January, enraged crowds looted and burned many of his family's palatial homes and now he's wanted in Tunisia on charges ranging from drug trafficking to money laundering to illegally trading in antiquities. Though his lawyers said they'd like to delay the trial to give them more time to convince Ben Ali to return and face the charges, the likelihood that he will ever face justice is vanishingly slim.
The trial of Ben Ali is likely to be followed by many more in Tunisia, and in neighboring Egypt, where corruption investigations against deposed leader Hosni Mubarak, his family, and cronies are gathering steam. Further out, the rebels in Libya are promising trials of Muammar Qaddafi and regime figures if they win their war, as are the democracy protesters in Syria and their supporters.
---