US 'offering' to keep troops in Iraq? More like begging for permission to stay.
(Read article summary)
The US appears desperate to keep troops in Iraq beyond this year's deadline. The Iraqis? Not so much.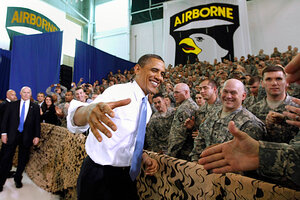 Charles Dharapak/AP/File
The Associated Press reported late yesterday (citing the ever-popular White Houses "sources" – that is, officials probably authorized to speak and plant a message in the press but granted anonymity anyways) that the Obama administration is "offering" to keep 10,000 troops in Iraq in 2012, beyond the agreed deadline with the Iraqis to withdraw all troops.
While that word "offer" has been repeatedly used by US officials named and unnamed in recent months, a better word might be "pleading." US officials insist that Iran has been expanding contacts and assistance to some Shiite militias inside the country. Less often stated is the fact that Iraq never had the kind of national reconciliation needed for lasting domestic peace, and that Sunni militias appear to be on the move again.
A number of senior officers in the Iraqi Army appear eager for the extended presence of the US and the additional training and equipment that would mean. In addition, the ethnic Kurds, who hold a semi-autonomous region in northern Iraq (carved out thanks to a US imposed no-fly zone against Saddam Hussein's forces following the first Gulf War), are lobbying for the US to stay.
But Prime Minister Nouri al-Maliki has been largely mum on the matter. A key to his shaky coalition are loyalists of Shiite preacher Muqtada al-Sadr, whose Mahdi Army repeatedly targeted US forces while also participating in the country's sectarian civil war between 2005 and 2009. Sadr has warned of extended bloodshed if what he terms a US occupation is extended beyond the end of this year. Some small Sunni groups are also staunchly opposed to an extension.
---