Can the US keep Ambassador Ford in Syria after attacks?
(Read article summary)
Probably for now. But The US has complained that the Syrian government was slow to protect the embassy from the stone-throwing supporters of Bashar al-Assad who invaded.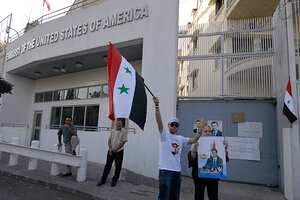 Muzaffar Salman/AP
That about 10 demonstrators were allowed to scale the walls surrounding the US Embassy in Damascus today was alarming.
Bashar al-Assad's security state is notoriously effective. Only a few hundred protesters were outside the embassy's gates and there was ample warning. Small groups have been gathering outside to throw eggs and fruit at the embassy for the past few days. And the protest was, at any rate, in Mr. Assad's support.
Though no one was hurt at the US embassy, three French guards were injured at their embassy during a similar protest. The incidents were quickly brought to a close: In the US case, thanks to the intervention of the Marine detachment guarding the embassy. But it will probably add fuel to the fire of those in Washington who have been arguing that President Obama should recall Ambassador Robert Ford in response to the Syrian uprising, which has seen over 1,500 people killed, so far, for challenging Mr. Assad's rule.
Mr. Ford has been on the job for about six months, and was the first person in the post since the Bush administration withdrew Ambassador Margaret Scobey in 2005 in response to the assassination of Lebanese politician Rafik Hariri, which the US blamed on Syria.
---