On free speech, Israel and Iraq draw closer together
(Read article summary)
Common ground for two very different nations found by Human Rights Watch.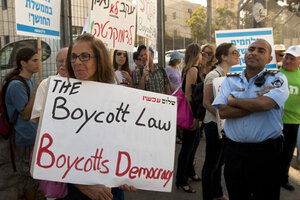 Sebastian Scheiner/AP
Israel passed a law Monday banning calls for boycotts on products from West Bank settlements, taking a step closer to the sorts of limits on free speech that it has long derided in its Arab neighbors.
And an Arab country that the US has held up as a model for the region – Iraq – also appears taking a step backwards.
Yesterday, Human Rights Watch (HRW) reported that Iraq is also seeking to restrict speech. While the laws enacted when the US was running the country were unusually liberal for the region, Iraqi politicians have steadily whittled them back into a more authoritarian shape since they took control.
So we may have just had the so-called Arab Spring, but in much of the Middle East, restraining free speech remains very much in style.
In the case of Israel, the new move comes at a time when the country's leaders have insisted that it's "the only democracy in the Middle East" in an effort to fight a shift of political support to Palestinian calls for a unilateral declaration of an independent state (the Palestinian Authority's free speech record does, however, pale in comparison to Israel's in both Gaza and the West Bank).
"The anti-boycott law is undemocratic," John Harris, executive director of the American Jewish Committee, said in a statement yesterday. "It ironically has already harmed, rather than helped, our community's overall efforts to defeat those groups who challenge Israel's legitimacy,"
---