Want to leak to Julian Assange? An Aussie PO box is your only shot
(Read article summary)
Julian Assange's WikiLeaks group continues to make headlines. But would-be leakers will have a tough time sending information.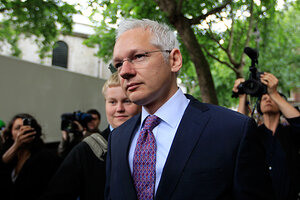 Sang Tan/AP
For people like me, the WikiLeaks story has it all: Candid revelations about US relations with foreign governments. A major security breach in the US military. And questions about media ethics and law in the digital age.
But when I've written about WikiLeaks and Julian Assange, it's generally been to either use the diplomatic cables in general reporting or to correct the record on the group's influence in the Middle East. I haven't really looked at WikiLeaks in itself – the technical details of how it enables a leaker to secretly and securely provide information over the internet without direct threat of getting caught – and I've also ignored, for the most part, the odd characters and strange quirks of hacker culture.
So I was brought up short when reading Steve Fishman's fascinating piece on Bradley Manning, the soldier accused of leaking thousands of US diplomatic cables and US army field reports from Iraq and Afghanistan who is currently in jail. Tucked away on page 7 of the New York Magazine article, in a passage on how Mr. Assange has alienated many former collaborators, he writes about how Daniel Domscheit-Berg, "fed up with what he saw as Assange's dictatorial ways, defected to launch his own site – ­OpenLeaks. Perhaps more important, WikiLeaks' technology architect departed with him. And so, for the past year, WikiLeaks has been unable to receive leaked documents online."
---