So who are Libya's rebels exactly?
(Read article summary)
With the US expanding ties – and possibly aid – to the Libyan rebels fighting Muammar Qaddafi, it's a question a lot of people are asking. But it isn't an easy one to answer.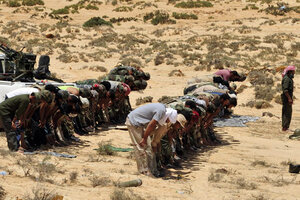 Esam Al-Fetori/Reuters
From almost the moment the embryonic Libyan Transitional National Council (TNC) began to come together in Benghazi and other eastern cities that successfully rose up against Muammar Qaddafi's rule in February, a deceptively simple, hard-to-answer question began to dominate the international conversation: "Who are these people?"
That question contains a host of subsidiary questions with implications for what the US and other foreign powers involved in the Libyan war should do: "Are they democrats, will they be friendly to the West, do they want an Islamist government, do they have it in them to lead Libya towards a more open society?" One of the most common criticisms here in the US about America's backing for the NATO air campaign against Mr. Qaddafi is that we don't know who it is, really, that we're helping.
Now, with the US deepening ties with the TNC and considering releasing some of the $30 billion of Qaddafi funds currently frozen in US accounts to the rebels, those questions are gaining renewed urgency. Last week, the US joined France and other nations in recognizing the TNC as the "legitimate governing authority" of Libya in a meeting with rebel representatives in Istanbul. Over the weekend, US Ambassador to Libya Gene Cretz met with Qaddafi representatives in Tunisia, the first such meeting since the war began and a sign of the growing push for a managed departure of Qaddafi from power.
---