Norway attacks: the latest terror strikes in Western Europe
(Read article summary)
Details are still sketchy on who carried out the Oslo bombing, but Norwegian police are also connecting it to a gunmen who attacked a political youth camp shortly after.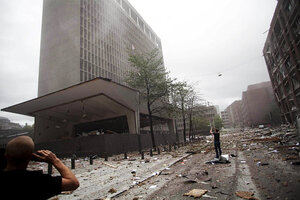 Fartein Rudjord/AP
The Oslo car bomb attack on the offices of Prime Minister Jens Stoltenberg (he wasn't there at the time and is unharmed) today, and the rampage of a gunman at a Labor Party youth camp on an island outside Oslo soon after, have stunned Norway. Norwegians have been changing their Facebook statuses to maps of their homeland, flags, and "I love Oslo" logos.
The safe and prosperous country appears to be in a state of collective shock. At least seven were killed in the Oslo attack. The shootings appear to have killed at least nine, but there are unconfirmed reports of many more casualties from the small island where they took place.
On social media, comments like "this is our 9/11" have been common. Who is responsible is still unknown. Norwegians are saying this is the single most violent day in the country since the end of World War II, when the Nazis occupied the country. The timing of the incidents, and the connection of both to Mr. Stoltengberg (he was scheduled to visit the Labor Party youth gathering on Utoya Island today), have the local police saying they're tangentially related.
But that connection isn't confirmed. Who could have done it?
---