To jazz soundtrack, Israeli official insists settlements are legal
(Read article summary)
Deputy Foreign Minister Danny Ayalon offers a whimsical take on the Arab-Israeli conflict in a slick new video. His conclusion? Israeli West Bank settlements are legal and there is no occupation.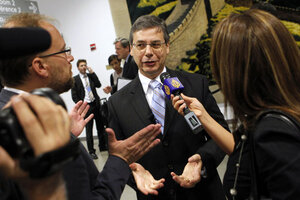 Jason DeCrow/AP
Danny Ayalon, Israel's deputy foreign minister from the ultranationalist Yisrael Beiteinu Party, has kicked up an Internet storm with a slickly produced video that argues Israel is within its rights to hold on to the West Bank in perpetuity.
Accompanied by a bouncy jazz soundtrack, Mr. Ayalon – a former ambassador to the US – stands in front of a simple white background while he makes his case in avuncular tones, illustrated by cartoons behind him. For instance, a sheesha-smoking character in a fez is run over by a tank to illustrate the Ottoman Turkish defeat in World War I.
To my eyes, the video – released July 19 – will probably be effective in making Ayalon's case to the only casually interested or people already predisposed to thinking Israel's possession of the West Bank is proper. But it is infuriating Palestinian negotiators, who are taking it as evidence of bad faith and the near impossibility of negotiated progress on a two-state solution with the current Israeli government.
It's also evidence of how mainstream the settlement movement has become in Israeli politics. Ayalon's video largely mirrors that of an earlier video for the Yesha Council, the main lobbying voice for the settlers, and was directed by the same man. Jeffrey Goldberg, a self-described Zionist at The Atlantic, summarizes Ayalon's point as "the West Bank belongs to Israel now and forever" and writes that "The Israeli Foreign Ministry is now part of the settlement movement."
---