Rebels sever Qaddafi's main supply route. The beginning of the end?
(Read article summary)
If rebels can hold on to Zawiyah, a recently captured town on Muammar Qaddafi's main supply route from Tunisia to Tripoli, the end of his rule becomes a matter of when, not if.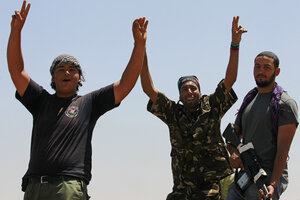 Bob Strong/Reuters
Libya's rebels won perhaps one of their most important military victories of the country's six-month conflict yesterday, taking the town of Zawiyah west of Tripoli and severing the main route to Tunisia that Muammar Qaddafi has been relying on to keep Tripoli supplied.
When the rebel victory came over the weekend, it clearly took the Qaddafi regime, largely holed up in Tripoli, by surprise. On Saturday, a government bus taking escorted journalists from Tunisia to the capital, where foreign reporters are only allowed to operate under the close watch of regime minders, came under fire near Zawiyah and was forced back. A CNN photographer on the bus reported large numbers of armed men along the road in the Zawiyah area and a stream of civilian cars heading west. After a chaotic and frightening 20 minutes, the bus managed to turn back West and the invited reporters were taken back across the border to Tunisia.
By Sunday, the rebels appeared to have consolidated their victory at Zawiyah and were also advancing closer to Tripoli from the east of the city, based out of Misurata. The gains have prompted a flurry of rumors about Qaddafi seeking an exit strategy and accelerated talks with rebel representatives. While it doesn't appear that a negotiated end to the fighting is at hand – and Qaddafi was his usual defiant and threatening self in an audiotape broadcast yesterday – if his forces can't open a route between the capital and Tunisia, the end of his rule becomes a matter of when, not if.
Yesterday, Qaddafi called on all Libyans to take up arms and reclaim the country "inch by inch" against the traitors. But it's been all one-way traffic lately, and not in his favor.
---