Tripoli has fallen and ... the battle for Tripoli rages on
(Read article summary)
In a chaotic city, Libya's rebels are having trouble telling friend from foe. Misinformation is rife and Qaddafi loyalists still have plenty of reason to fight on.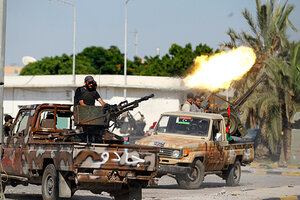 Zohra Bensemra/Reuters
Reporters in Tripoli are having a hard time sorting out fact from fiction. Rebel fighters are roaming the streets of Libya's capital, more organized fighters have reportedly breached the walls of Qaddafi's sprawling Bab al-Azizya compound, and loyalist gunmen are set up on roofs around the cities, taking potshots at all who pass.
So I'll caveat this post with the fact that I'm in Boston, that the situation in Tripoli could turn on a dime, and that any firm predictions about how and when the end will come for Muammar Qaddafi are likely to be proven wrong. This is not to say he isn't finished. He is. Reuters is reporting from the ground that rebel fighters have moved into the Bab al-Azizya after fierce fighting for much of the day (residents in nearby homes say stray bullets have filled the street for hours).
The compound – about four square miles of private homes, barracks, and military command centers – is both the symbolic and actual heart of Qaddafi's regime, forbidden to all but regime loyalists until just days ago. Rebels are convinced there may be a network of underground tunnels there (though a similar conviction about tunnels riddling the ground beneath Qaddafi's main barracks in Benghazi wasn't born out when the eastern city fell in February).
The fact that Qaddafi's forces can't hold the line there shows how much NATO sorties and the improving rebel fighters have tipped the scales against him.
---