Libyan rebels reject UN proposal for peacekeepers
(Read article summary)
Libya rebel leaders argue that the country is not in a civil war but united in a fight to throw off Qaddafi's dictatorship.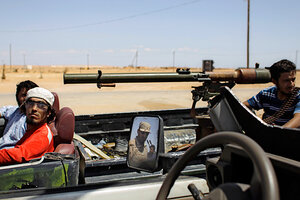 Sergey Ponomarev/AP
Muammar Qaddafi may still be on the run and Libya's National Transitional Council (NTC) still trying to find its feet in Tripoli. But a key element of a proposed United Nations plan for Libya drawn up by Ian Martin has already been roundly rejected by Libya's interim leaders.
The BBC reports that Mr. Martin, tasked with drawing up the UN's post-conflict plans, said after a meeting with the UN Security Council yesterday that Libya's interim rulers have ruled out the deployment of any sort of international force to the country. Martin's original plan for Libya imagined up to 200 unarmed military observers plus an "interim protection force" for the observers, if the Libyans agreed.
That agreement hasn't been forthcoming. Ibrahim Dabbashi, Libya's deputy representative to the UN, told the BBC that there is no need for deploying peacekeepers.
---