Are Libya's Islamists scary?
(Read article summary)
Reminders that the Bush administration collaborated with Libya's Qaddafi regime on the detention and interrogation of Islamists makes some afraid. They shouldn't be.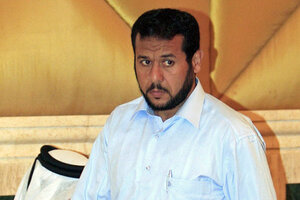 Mohammed Dabbous/Reuters
Abdel Hakim Belhadj is the man Libya's National Transitional Council (NTC) has put in charge of military affairs in Tripoli, the capital. He's one of the few rebel leaders with a military background untainted by service to Qaddafi, and his anti-regime credentials are impeccable: He led a failed insurgency against Qaddafi, the man blamed for ordering the Lockerbie bombing and other terrorist attacks on US interests abroad, in the 1990s.
But his background has some worried about the future of the new Libya. A former leader of the Libyan Islamic Fighting Group, he was one of a few dozen Islamist fighters who fled Qaddafi's regime for Afghanistan in the late 1990s, and who were picked up with US and British assistance around the globe after the 9/11 attacks and "rendered" into Libya custody for interrogation, some of which involved torture. Mr. Belhadj was shipped to Qaddafi's Libya by the CIA from Malaysia, via Bangkok, in 2004.
---