A recent history of 'sophisticated' insurgent attacks in Kabul
(Read article summary)
Today's attacks are insignificant from a tactical perspective, but they are part of a steady increase of assaults – sending a message that the Taliban-led insurgency can reach deep into the capital.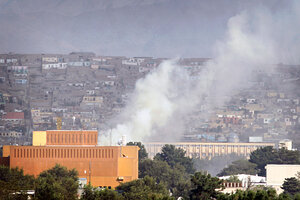 Ahmad Nazar/AP
The attacks in Kabul today were "sophisticated" (the term used to describe attacks that involve multiple locations and weapons), lasted for hours, and ... are completely insignificant from a tactical perspective.
There were claims of mortars fired at NATO headquarters in Kabul and of rocket-propelled grenades flying over the roof the US Embassy, just across the street in the same secured compound. Some expatriates locked themselves in safe-rooms before Afghan forces, supported by NATO helicopters, brought the situation largely under control. As of this writing, a few attackers appeared to be alive and holed up in a half-completed high rise, but the writing was on the wall for them.
What does any of this mean, a few days after US Ambassador Ryan Crocker told The Washington Post that "The biggest problem in Kabul is traffic?" Clearly not much in isolation. The Afghan government's early reports are that three policemen and perhaps one civilian were killed when insurgents raided a building site near the embassy compound and simultaneously moved on an Afghan Border Police base in a different part of town. A school bus was hit by an RPG, but early reports were that none of the children were killed.
---