Saudi women to vote ...
(Read article summary)
... in meaningless elections. Still, the Saudi King's announcement today is a symbolic opening of more space for women in the Kingdom.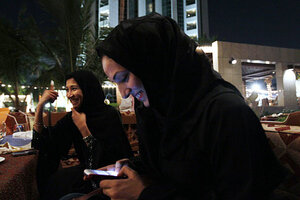 Hassan Ammar/AP/File
Saudi Arabia's King Abdullah told his Consultative (Shura) Council today that women would be able to participate in future municipal elections and that he'd consider appointing women to the Council itself, saying: "Muslim women in our Islamic history have demonstrated positions that expressed correct opinions."
The reaction on Twitter by many people who know Saudi Arabia far better than me amounted to "so what?" After all, the municipal councils are largely powerless, and the King's Shura Council has no real powers of its own.
But in the context of Saudi discourse this strikes me as a fairly big move.
The Kingdom created the Shura Council in 1993. The group has had a few women on it since, but that hasn't been the sort of thing that the government has been interested in drawing attention to.
The first Municipal Council elections were held in 2005 with women denied the vote. That was the first "election-like" event in the Kingdom since the 1960s. A second set of municipal elections were originally scheduled for 2009, but have been repeatedly delayed. They're scheduled to finally go forward this week though without women voting. All going to plan, the next elections would probably be in 2015.
This year, Saudi Arabia has witnessed scattered protests of women taking to the wheel and insisting on the right to drive – a prospect that has traditionally horrified the conservative Saudi religious establishment.
---