The latest Quartet proposal to pressure Abbas? Going nowhere.
(Read article summary)
The Palestinian Authority move for recognition at the UN is designed to shake up the status quo. Proposals that change nothing just won't cut it.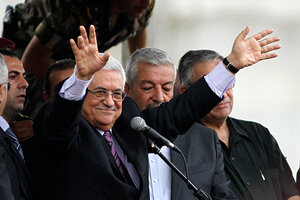 Mohamad Torokman/Reuters
Well, it's done. Palestinian Authority President Mahmoud Abbas made his grand gesture at the United Nations last week.
His application for full membership in the UN of a Palestinian state on the borders that prevailed before the 1967 Arab-Israeli war is already resetting the terms for negotiation.
The UN Security Council is meeting to discuss the application today, but an actual vote will probably be delayed for weeks. In the interim, frantic lobbying and diplomacy is under way to somehow convince Mr. Abbas – whose move seems wildly popular in the West Bank – to back away and open a new round of talks with Israel instead.
But if the carrots amount to nothing more than what was offered by the so-called Quartet – the US, UN, European Union, and Russia – last week, it's hard to imagine Abbas shifting course.
After years of eroding legitimacy (PA elections scheduled for 2009 were canceled because of the rift with Hamas, which controls Gaza) and the failure of negotiations to deliver a state or stop the expansion of settlements, Abbas was seen as weak and tired by his own people. For the moment, at least, his popularity has surged again thanks to his symbolic – but nevertheless powerful – move at the UN.
---