Egypt gas pipeline attack raises questions about Sinai security
(Read article summary)
The latest attack on an Egyptian gas pipeline is a relatively minor event. But it's another reminder of the public anger that is likely to cause Egypt to draw further away from Israel.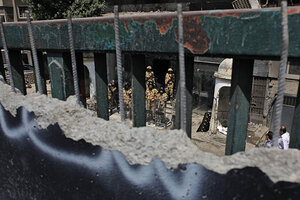 Nasser Nasser/AP
A pipeline in Egypt's Sinai Peninsula, near the town of al-Arish, was sabotaged for the sixth time this year today, a reminder that Egypt's relationship with Israel remains a hot topic here.
Gas shipments to Israel owed under a controversial deal signed by former President Hosni Mubarak have been shut since July, after another pipeline attack. The assault today, involving a carload of gunmen who placed an explosive at a pumping station, has disrupted gas deliveries to Jordan and one of Egypt's own power stations.
Who carried it out is still unknown, but the early speculation is on "Islamist militants" opposed to the gas deal. There is also a lot of general anger among the Sinai Bedouin people toward the central government over not receiving much in the way of compensation for the pipeline that crosses the area.
But the issue of gas to Israel – widely seen as a sweetheart deal by many Egyptians – is a real one here, and at least reworking it so that Egypt gets more cash is widely supported by both politicians and average Egyptians.
A few days ago I was on a long Metro ride from the outskirts of Cairo to downtown when a heavily bearded, otherwise scrawny and very poor-looking man, climbed aboard. He began haranguing the packed car as eye-rolling broke out over what everyone took to be the salafi Islamist sermon that was to follow. But to warm up he started on the corruption of the Mubarak regime and the ongoing theft of Egypt's natural resources by Israel that Mubarak had approved – and for this, he received general nods of assent from the Cairene straphangers.
It's hard to imagine any new Egyptian order that emerges from its current political transition that won't be colder to Israel than it was under Mubarak. The Supreme Council of the Armed Forces, the junta now running in Egypt, remains firmly in control and a transition to a democracy soon remains far from assured.
---