Qaddafi's death leaves a Libya that must build itself from scratch
(Read article summary)
Muammar Qaddafi's government was one of a kind, with no independent institutions. That means Libya's new government has nothing, good or bad, to build on.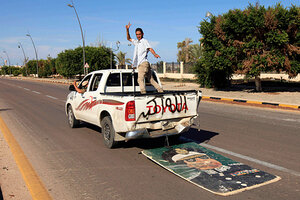 Esam Al-Fetori/Reuters
The killing of Muammar Qaddafi today puts an exclamation point on the Libyan revolution. Difficult challenges remain ahead for Libya. But with Qaddafi gone, his strange, formless, socialist-in-name-but-tyrannical-in-application form of government is gone as well.
The writing has been on the wall for months, at least since Tripoli fell to rebel forces. Since then, there's been plenty of writing on his legacy and impact on the world.
Long time Monitor Africa correspondent Scott Baldauf wrote in August that Qaddafi has had a profound impact on his continent.
"As the single-largest contributor to the budget of the African Union, a prime aid donor for poor African countries, and a dependable advocate for pan-African cooperation, Libyan leader Muammar Qaddafi is a man whose impact reaches far beyond his country's borders.

That impact is sometimes good, as when he funds hospital or road projects, or when his estimated 15 percent contribution of the AU's budget allows the AU to send peacekeepers to Somalia, Darfur, and the Democratic Republic of Congo. And it can be bad, when he buys weapons for rebel groups to destabilize his neighbors like Sudan and Chad."
---