Israel, Palestinians, and UNESCO culture wars
(Read article summary)
UNESCO, a cultural heritage group at the United Nations, today gave Palestinians membership. Why is Israel angry about this symbolic step?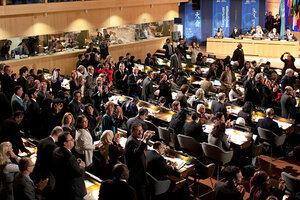 Thibault Camus/AP
The members of the United Nations Education, Scientific and Cultural Organization (UNESCO) voted overwhelmingly to admit Palestine as a full member today, setting off furious Israeli denunciations and a nervous exploration of options by the Obama administration.
The vote comes in the context of the currently stalled Palestinian push for full UN recognition – a step Obama has promised to veto if it comes before the United Nations Security Council. The rhetoric on today's vote is already heated. The vote was 107 for, 14 against, and 52 abstentions. I couldn't find a full breakdown of the vote yet. But France voted for, as did China and India along with most of the rest of Asia, Latin America, and Africa. The US, Israel, Canada, and Germany voted against. Britain and Japan were among those who abstained.
---