NATO's Libya mission ends. Was it a success?
(Read article summary)
It's too soon to tell what kind of new Libya will emerge in the wake of NATO's Libya mission. But Qaddafi's controversial death should not be taken as a sign that NATO's efforts were for naught.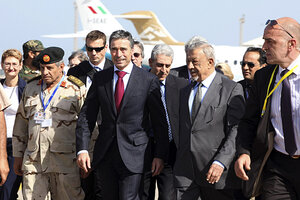 Ismail Zietouny/Reuters
With NATO officially ending its combat mission in the skies over Libya today – Secretary-General Anders Fogh Rasmussen called the endeavor one of the "most successful" operations in NATO's history – a new mission begins for scholars, pundits, and the merely opinionated: What just happened and was it worth it?
It promises to be hotly contested terrain in the coming months and years: between supporters of the "right to protect" doctrine and critics who say the NATO intervention was ill-conceived and could still result in more harm than good; between politicians who seek to frame President Obama as a bold and decisive leader or a feckless gambler; and between those who saw either a principled stand to help Libyans win freedom by NATO or an effort to control what comes next in Libya.
For now, all assessments are hampered by time. It's simply too soon to tell what kind of new Libya will be born. The country's vast oil wealth is clearly a positive, but its geographical divisions and absence of pluralistic political culture (thanks in part to Muammar Qaddafi's 42 years of one-man rule) could lead to major trouble.
---
Follow Stories Like This
Get the Monitor stories you care about delivered to your inbox.