Ahead of Iran nuclear report, plenty of apocalyptic talk
(Read article summary)
Words like 'crippling' and 'collapse' and 'lethal' are being used by US proponents of tougher sanctions ahead of an IAEA report on Iran's nuclear program. Is that smart diplomacy?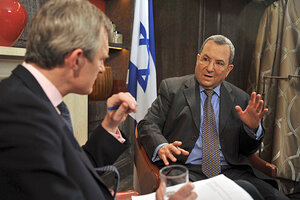 Jeff Overs/BBC/Reuters
The contours of what comes next in the saga of Iran's nuclear program are becoming clearer: A push for new sanctions on the Iranian regime, led by some American politicians and cheered on from the sidelines by Israel, that proponents describe in extremely stark terms.
Words like "lethal" are being used to suggest fresh sanctions, with "collapse" used to explain a desired end result in Iran. That isn't likely to happen, but the gulf between that sort of language and the more moderated tone from Europe is an indication that while alarm is rising, there is far from an international consensus over what to do about Iran's nuclear program.
The Monitor's Ariel Zirulnick rounded up European opinion today, and it ranged from the German foreign minister warning that war talk strengthens Iran's hard-line leadership, to Russian President Dmitry Medvedev saying that threats of war are "pretty dangerous rhetoric."
Meanwhile, Israeli Defense Minister Ehud Barak told Israel Radio that since Russia and China are unlikely to back "lethal" sanctions on Iran, it would be unwise "to take any option off the table," meaning that military strikes should be considered. He also said a naval blockade to cut off Iran's oil exports might be a good idea.
---