Harsh crackdown in Tahrir ahead of Egypt's elections
(Read article summary)
Activists and reporters on the scene of six hours of running clashes with security forces in Tahrir Square today said it felt like the protests that toppled Mubarak last winter. Expect a tense runup to Nov. 28 elections.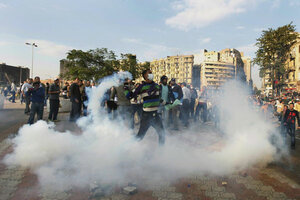 Khalil Hamra/AP
It was a pattern we'd seen before. A vast, peaceful turnout on Cairo's Tahrir Square on Friday. Though it was led by bearded Islamists, leftists, liberals, and middle class families were all in the crowd. Their message was simple: End military rule, now.
Most trickled home at the end of the day, but a cluster of revolutionary stalwarts erected tents, seeking to start another long-term occupation of the central Cairo square that became synonymous with the people-power movement that ended Hosni Mubarak's three decades in power.
This morning tens of thousands returned, demanding the fall of the military council led by Field Marshal Hussein Tantawi that now runs Egypt. Then came the unfortunately familiar response: Massed ranks of riot police, many so undisciplined they started stone-throwing standoffs with protesters, while engaging in volleys of tear gas and rubber bullets, and baton charges.
The battle for Tahrir raged through the afternoon, with skirmishes spreading through Cairo's warren of tight streets and smaller squares. The call went out for reinforcements to "ultras," tough and organized supporters of big soccer clubs like Ahli and Zamalek, and they poured into the square, apparently securing it for the demonstrators as night fell and state security forces fell back.
Egyptian media said the fighting injured at least 100 people. Usually reliable sources on Twitter said at least two of the protesters had lost eyes to rubber bullets. A state security truck was overwhelmed and set on fire in the square, smoldering into the evening in pictures beamed round the country and the world.
---