What's next for Egypt?
(Read article summary)
A roundup of Egypt analysis after the mass protests – and harsh crackdown – around Tahrir Square over the past few days. Some democracy supporters advocate delaying next week's elections.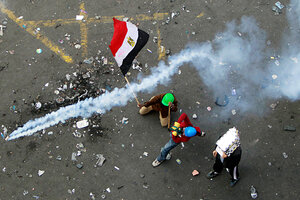 Amr Abdallah Dalsh/Reuters
Cairo is on fire again, downtown streets are filled with tear gas, Molotov cocktails, and the crack of rubber bullets. Field Marshal Mohammed Hussein Tantawi, Egypt's de facto leader, took to state TV last night to address the blossoming crisis. He offered little new beyond a promise to accelerate presidential elections to July 2012, and the protesters weren't mollified.
Now people on the ground say increasingly militant protesters are seeking out conflict with security forces downtown. The Supreme Council of the Armed Forces (SCAF) doesn't seem to have political answers. What comes next?
Obviously, it's hard to say. Parliamentary elections are still scheduled to begin next Monday, though they will take place in a tense environment of anger and distrust. Dozens of Egyptians have been killed in the past few days, and many hundreds more injured, some seriously.
The showdown is, at root, over military versus civilian rule. But behind that basic question lies more complicated terrain. Leftists, Islamists, and civilian friends of the old order are jockeying to define the Egyptian state, even as the economy continues to deteriorate. Any hopes for tourism to pick back up have been dealt a heavy blow by the fighting of the past few days.
Nevertheless, people who know the country well are picking their way through the present chaos to make informed guesses about where Egypt heads from here. And it isn't all bad news.
Steven Cook, author of the excellent new book The Struggle for Egypt and a senior fellow at the Council on Foreign Relations, wrote before Tantawi gave his speech that he and his fellow generals have made a hash of Egypt's transition.
---